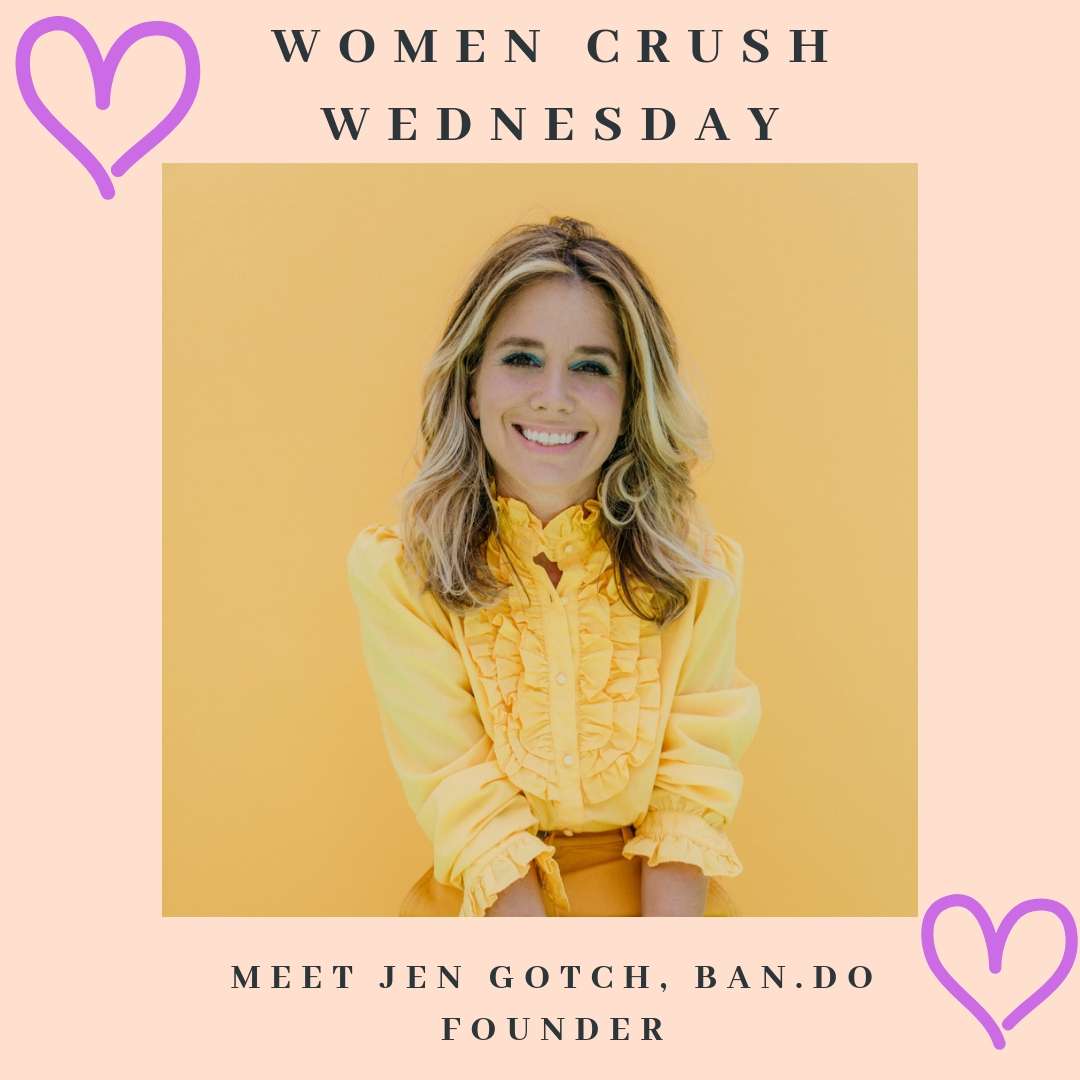 About Women Crush Wednesday: I love having the chance to interview different people on both of my shows, from up and coming entrepreneurs to kids across the world doing amazing things for the world. I frequently come across people that I'd love to interview but don't necessarily have the time to interview, or we can't match up our schedules, so I wanted to start a new weekly profile on Life Unfiltered to bring attention to even more people in the world making an impact.
This week, I'm highlighting Ban.do founder Jen Gotch. Ban.do is the go-to platform for everything relating to quirky designs, founded by Jen Gotch. In honor of Mental Health Awareness Month, Jen launched two necklaces called anxiety and depression to bring more attention to mental health. Besides her obvious interest in bringing attention to mental health, Jen's podcast and social media showcase her authentic and truly down to Earth self. We adore you, Jen! Thanks so much for answering these questions about being fearless.
1. You're already taking over the world, was this your goal from the beginning?
Oh man, world domination actually sounds pretty daunting…but I'm happy to leave my mark.
2. What's the most unexpected thing people wouldn't think about being an entrepreneur?
That success does not come quickly. It does not come without patience and hard work and big sacrifices, personally and professionally. But every road block or failure is a gift and should be viewed that way. Sometimes it takes a little time and distance to be able to do that, but when I look back at things that from most people's standpoints would be viewed as a "failure," I feel like they've always given me something that's really valuable. We're just trained to think of failure to be something to be really afraid of, but I wouldn't be where I am today if everything had just worked out.
3. You said in another interview that "Knowing I can affect people's lives just through my phone which is pretty fucking insane." How do you think social media is positively/negatively affecting young people?
I think social media has its pitfalls, and we should all evaluate how it affects us – and how we can use it in a way that uplifts us and others. But it's also been such an amazing way for me to openly discuss my mental health issues in an effort to remove the stigmas around them and help others feel less alone.
4. What advice would you give your 16-year-old self?
I would say, "Jen, spend more time getting to know yourself and understanding your emotions and less time worrying about some guy that in the end, won't make a difference. Learn to be kind and loving towards yourself and work towards self acceptance. Also, everything you think you know, you don't. Everything you think is important, it's not. You're just getting started. So go, do, get out there. Fear is just an idea, it's not real – unless of course we are talking about being chased by a giant grizzly bear or something, in which case that is very real and, um, RUNNNNNNNN!"
5. For aspiring entrepreneurs out there, what one piece of advice do you have for overcoming the fear of putting their idea out in the world?
For me, it's all about cultivating your emotional intelligence and resilience – that is the key to personal and professional success. If you have emotional intelligence, then you understand people and situations and yourself. That has been my most useful tool. Being resilient allowed me to get knocked down, pick myself back up, learn from the pain, and move forward.