#LifeUnfiltered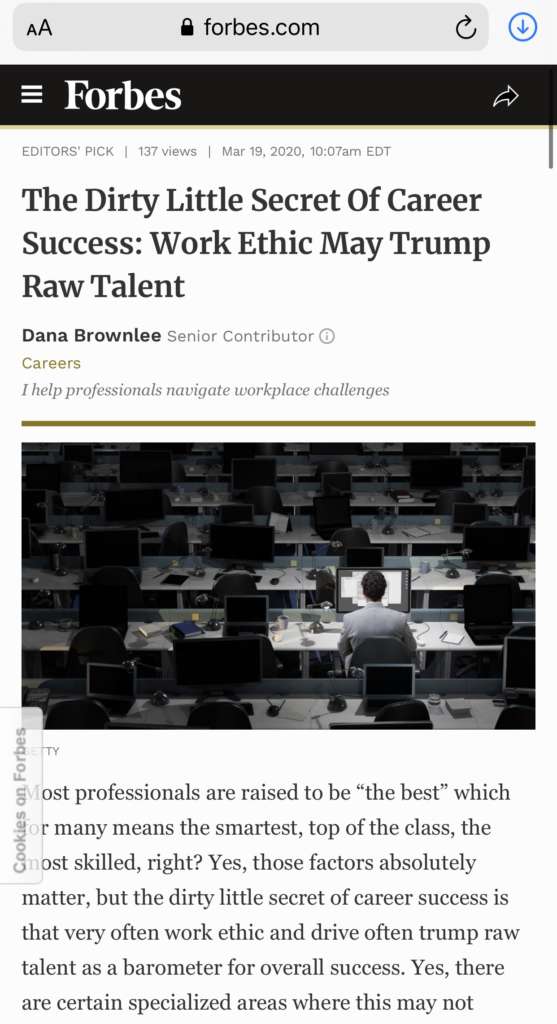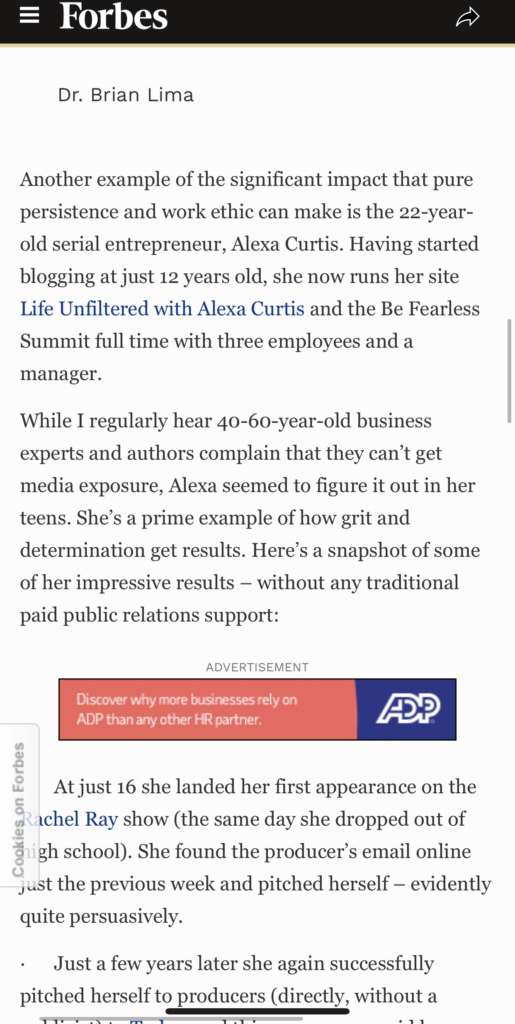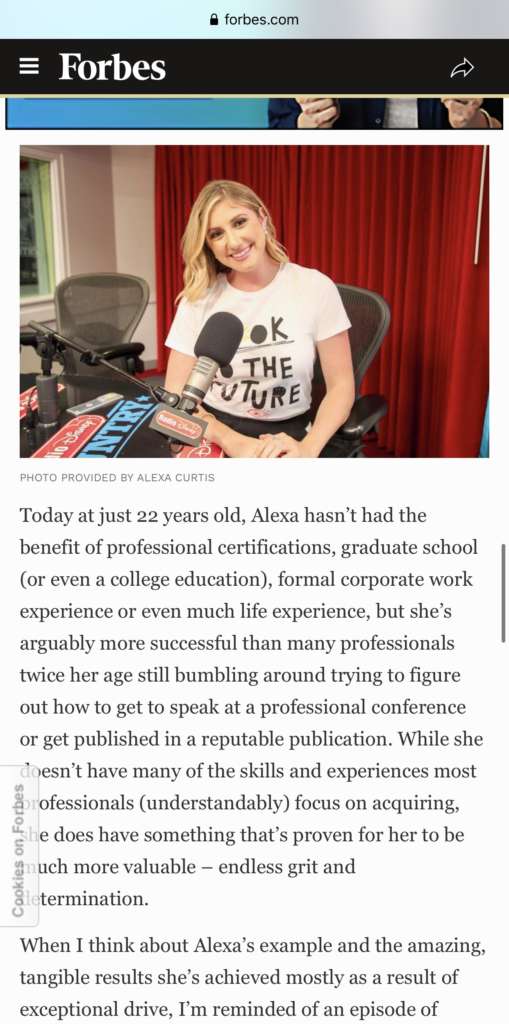 Honored beyond BELIEF to be included in this incredible Forbes article by Dana, who is a senior editor at Forbes. After a bit of a painful week last week for everyone, myself included, this is a reminder for us all to keep moving forward and persevering. Read the full article here!
*************************************
Another example of the significant impact that pure persistence and work ethic can make is the 22-year-old serial entrepreneur, Alexa Curtis. Having started blogging at just 12 years old, she now runs her site Life Unfiltered with Alexa Curtis and the Be Fearless Summit full time with three employees and a manager.
While I regularly hear 40-60-year-old business experts and authors complain that they can't get media exposure, Alexa seemed to figure it out in her teens. She's a prime example of how grit and determination get results. Here's a snapshot of some of her impressive results – without any traditional paid public relations support:
·      At just 16 she landed her first appearance on the Rachel Ray show (the same day she dropped out of high school). She found the producer's email online just the previous week and pitched herself – evidently quite persuasively.
·      Just a few years later she again successfully pitched herself to producers (directly, without a publicist) to Today, and this appearance paid huge dividends for the trajectory and momentum of her burgeoning career.
·      Between ages 18-19, she accelerated her social media presence by instituting "Fearless Fridays" on her Instagram page and hosting her own weekly podcast This Is Life Unfiltered. Insistent on finding the right media contacts for her next opportunity, she then blind copied 466 producers on an email chain which eventually resulted in her landing a reply at Radio Disney. This reply was the genesis of her being offered the opportunity to host her own radio show Fearless Everyday with Alexa Curtis, based on her Fearless Fridays initiative.
·      Her hard work really paid off when at she was invited to speak at Talkspace, a media/mental health conference (with virtually no professional speaking experience). "That event changed my career path entirely. After that conference I knew I could use my platform to get more involved with public speaking which led me to launch my nonprofit Media Impact and Navigation for Teens," explains Curtis.