#FEARLESSFRIDAYS BE FEARLESS SUMMIT GIVEAWAY!
For terms and conditions surrounding the giveaway, please scroll down. This is in partnership with Spirit Airlines and Graduate Hotels, and this giveaway will run for 2 weeks until New Years Eve, December 31st. This giveaway is open to ANYONE who is 16 years or older, is able to fly with a valid form of ID by February 24th, 2022 and can fly a route that SPIRIT flies. Please check their website before entering this giveaway.
Winner is required to have their own transport to any activities prior to the summit and from the airport, and to the UCONN campus for the VIP event and summit on the 26th. Winner is required to attend the Be Fearless Summit and their trip will be canceled if we find out you will not be attending the summit.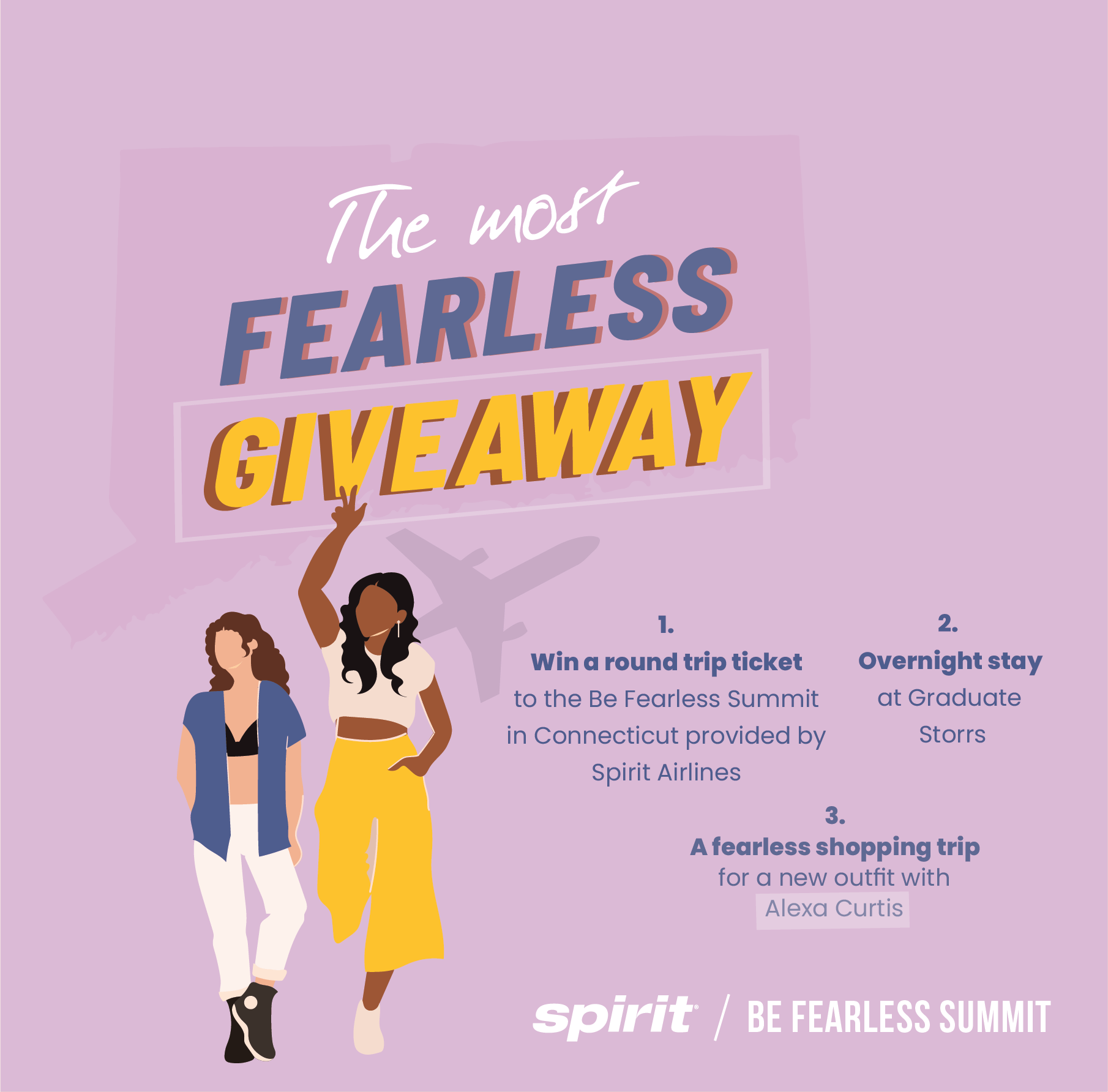 We couldn't be more excited to release this giveaway, our biggest one yet, before the end of the year. Be Fearless Summit in partnership with Spirit Airlines is teaming up to send one of you to the 2022 Be Fearless Summit at the University of Connecticut in Storrs in February. The winner will be chosen on New Years Eve and announced via Instagram on December 31st, 2021.
WHAT THE WINNER WILL GET:
ONE ROUND TRIP TICKET FROM SPIRIT AIRLINES, valued at $500, will include a checked bag, carry-on and assigned seat. YOU MUST BE ABLE TO FLY ON A ROUTE THAT SPIRIT AIRLINES PROVIDES. 
A STAY OVERNIGHT BEFORE THE SUMMIT AT GRADUATE HOTEL IN STORRS ON THE UCONN CAMPUS 
ATTENDANCE TO THE BE FEARLESS SUMMIT AND A SHOPPING TRIP TO THE WESTFARMS MALL WITH ME!
ENTER TO WIN ON INSTAGRAM, RIGHT NOW!
T&C:
Air transportation provided by Spirit Airlines, for the winner from xxxx Airport from xxxxxx Airport on Spirit Airlines. Winner will receive one (1) round-trip flight and will have a value of $500 including one checked bag, one carry-on, and one assigned economy seat to be used against selected flights. Winner will be responsible for securing any transportation to/from the closest Spirit Airlines served airport to their home, any costs not covered by the provided flight voucher, and will be responsible for securing their own flights using the provided voucher.  Ticket must be redeemed on (DATE).