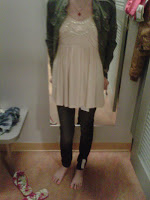 Hola! So, here's the pics from Macy's. Lucky for me, there's not that many LOL! But first, I had a couple blogger requests. Number 1, I had another post on shapes of different girls. There was a comment about wearing miniskirts and being slim. In my post, I didn't say not to wear miniskirts. Actually, I suggest wearing them. But don't get them to TIGHT. That's the key thing. If you get it to small a size, it won't look good on a slim girl with long legs. I was only recommending what to wear, and miniskirts are so not out for slim girls. Also, a tulip skirt can be found on google images if your confused on what it is. But its a skirt that almost is pleated and can have a waistband on the top. I'll post a picture for help. This is just a simple one though, they can get much more creative.
Here's the outfits from Macy's. The first is a dark pair of skinny jeans from Jessica Simpson's line. I absolutely LOVE her line! It's pretty affordable and so sleek and chic. She has shoes and bags and jeans and everything! The jeans are a little pricey at $49, but if you save up $25 a month you can get this pair of jeans and you don't need another pair for over a year away. The pink v-neck retro tee is a cheap $14.99 and can be paired with this cute brown leather jacket or a pair of black leggings/jeans. The brown leather jacket is a must have this season. I have my own in black, but this is a cute affordable one that pairs with everything and anything. I recommend a brown if your purchasing in the spring, but black can always go with everything. The brand is Jou Jou and it's $59.00. If it's a little over your price range, I'll post a picture of a cheaper brown leather jacket. Found at Target for $34.99, it's a great steal for the fall and even winter. Lastly, the pink baby tee with little crystals on the front is $21.00. It's so cute I just fell in love with it and pairs great with this green military style jacket! I love this jacket, but I did sadly forget the price. Although, it was under $50 because otherwise I wouldn't have tried it on! Hope you like the outfits!
P.S. Walmart shopping is this weekend! I'll be on the lookout for a more edgy/Miley Cyrus type look but still glam! I'm hoping to find a school appropriate outfit at either Kohls/JcPenney or Walmart, but all of the outfits I show you can be worn to school. As I'm a student, I wouldn't post shots that cant be worn in school.
Sales- Hollister is having a sale on jeans- 30% off redlines on jeans! Delia's is having summer sales on shorts for just $10 and $5 shirts. Macy's has a whole rack full of exactly $5 shorts! H&M has purses for $10! I'm so mad as I just spent $30 on a purse then saw one for $10! Lastly, socks with flats and heals are very in! As you can see, SJP seen wearing knee-high socks with heels! SO CUTE!!
Love-forever&always,
Ms.Fashionista